Noodles for all tastes
Noodles are the most important ingredient in oriental cuisine, where they have been used for over 4,000 years. Mama noodles are suitable for almost any type of food: soups, woks, salads, baking and they can be served together with meat, chicken, fish, shellfish and vegetables.
Noodles are tasty in both hot and cold dishes and they are ready in just a few minutes.
The type of noodles you should use is influenced, among other things, by the type of meal you wish to cook, taste preferences and allergies.
Noodle types
Wheat noodles are the largest Mama product category. In terms of their taste and texture, they can be used in any type of Asian food.
Whole grain noodles are made from whole wheat, so they are the perfect choice for those who prefer more fibre in their meals.
Egg noodles are made from wheat flour and egg, which gives the noodles a yellowish colour, firm texture and soft taste. Egg noodles are suitable for all types of Asian dishes, particularly wok dishes.
The main raw ingredient in rice noodles and rice vermicelli is rice. Rice noodles and vermicelli are suitable for people with celiac disease, as rice is naturally gluten-free. Compared to regular rice noodles, rice vermicelli is thinner and more string-like.
---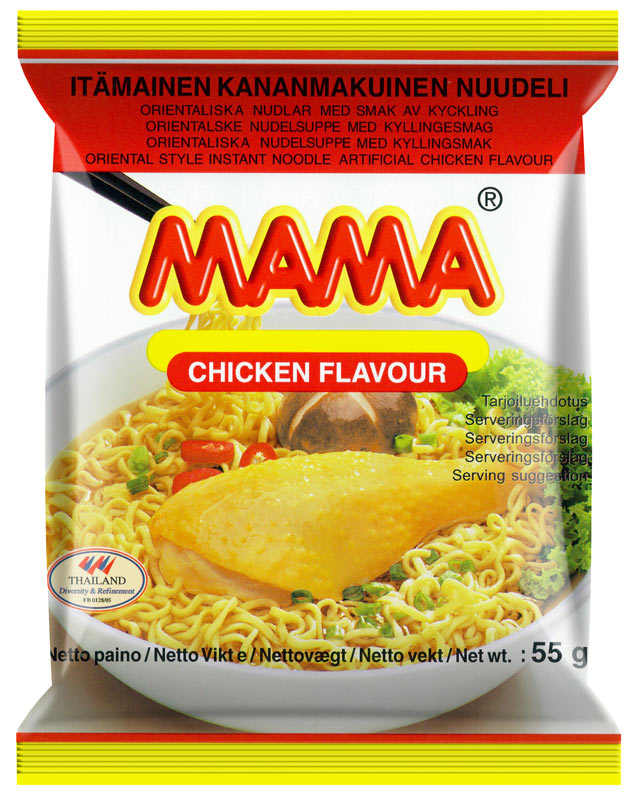 A Finnish favourite
Finns have been getting used to spicy food over the past twenty years, so the popularity of spicy noodles has also grown steadily. Year after year, chicken noodles have been the number one choice for Finns, while Tom Yum is the most popular flavour in Thailand.
Product development is always carried out in accordance with consumers' preferences. Some products have already been introduced to the Finnish market at the request of consumers. The importer of Mama noodles is Indo-Baltic Oy.
Authentic oriental noodles
Mama noodles are made in Thailand, where their production began 50 years ago. Mama noodles occupy a leading position on the Thai market and you can find them almost anywhere. Mama noodles are available all over the world.
First noodle brand in Finland
Mama noodles first arrived in Finland in 1994. At that time, there were no other noodle brands in Finnish shops nor a word for noodles in the Finnish language. People knew very little about noodles. Nowadays, noodles are a common food in Finland and a word that everyone recognises. Mama noodles have continued to be a leader on the market to this day.
Quality-conscious and ethical
Mama noodles has always invested in high-quality raw ingredients, product quality and taste. The company uses world-class production processes and quality control. The factory has obtained GMP, HACCP, ISO, WCA, BRC certificates. In addition, the factory's self-control laboratory has an ISO 17025 certificate.
The main raw ingredient in the noodles is wheat flour, which comes from America, the EU and Australia. The seasoning sachets mainly come from Asia, while the chilli powder is always from Thailand. The palm oil used in the noodles is RSPO certified. The quality and purity of all raw ingredients are tested in the factory's internal laboratory before being transferred to the production line. In addition, each final product is analysed before it enters the market.
The factory has also been SMETA audited and it holds a WCA certificate. These show that the company's employees are treated well and everything is in order. Employees are provided with a safe and well-managed work environment. Shifts are not excessively long and employees receive a decent salary in exchange for their work.
We also ensure that the packaging of the products we deliver to the market gets reutilised.